NumisAntica offers authentic ancient artefacts, European works of art, relics and coins for sale.
Antiquities
Discover our collection of antiquities and artefacts from various interesting periods in European history: Bronze Age, Greek, Roman, Celtic, the Dark Ages & Migration period to the late Middle Ages.
We have a special interest in Medieval seals and pewter artefacts from the Middle Ages.
Our selection of antiques and collectibles from the 16th century (Renaissance, Tudor and Dutch Golden Age) to the 19th century (Victorian) can be found under Post-Medieval.
A small selection of Chinese and Japanese works of art can be found under Oriental.
Coins, jetons & coin weights
Browse our selection of coins, weights and jetons (rekenpenningen) from various countries and interesting periods in European history. We have a special interest in coins from the Middle Ages and the Low Countries (Dutch Provincial).
The coin collection is ordered by period until the Middle Ages. Post-Medieval coins are grouped by location.
Our collection of World coins currently includes France, Austria, Italy, Great Britain, Ireland, Sweden, Islamic and Ottoman Empire.
Coin weights, jetons & medals are placed in a separate gallery.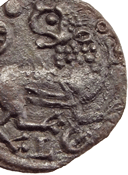 Ancient & Greek
Roman & Byzantine
Celtic
Medieval
Low Countries
Spain & cobs
World
Coin weights
Jetons & Medals
A varying selection of special collections are grouped by subject. Some of our current collections include:
Click here below to view our latest additions ordered by category
antiquities
or
coins
. A selection of the latest additions is shown at '
Recent coins & artefacts
'
(click below the Featured section).


Subscribe to our
Newsletter
to receive a message each time new items are added to the website, or follow us on Facebook.