Home
Roman lead decorated sling bullets (sling shots), 2 pcs
Roman lead decorated sling bullets (sling shots), 2 pcs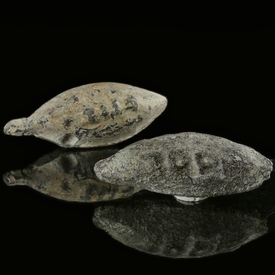 Roman lead decorated sling bullets (sling shots), 2 pcs
1st century BC - 2nd century AD
Two Roman lead sling bullets or sling shots. Both have an inscription which is not yet deciphered.
Size left: 45,9 x 16,5 x 17 mm
Weight: 46,14 g
Size right: 43 x 15 x 13,7 mm
Weight: 42,88 g
Article code: 19-1112
Related coins & artefacts
Specifications
Additional info
Sling bullets
or
sling shots
belong to the oldest weapons humanity has ever invented, and their effectiveness is demonstrated by the fact they are still used in our modern days.
Slings were hurled by the soldiers from a small pouch between two lengths of cord. It was a simple, inexpensive but very efficient weapon.
Greek and Roman sling bullets often bear intimidating decorations (scorpions, snakes, thunderbolt, etc), the name of a deity or reference to a Military unit or Legion. Also many slings bear sarcastic inscriptions. Some examples are: 'This is a hard nut to crack', 'Take this' or 'Catch'.