Kings and monarchs
Philip the Bold / Filips de Stoute (1384-1404)
Philip the Bold, son of King Jean II of France was the founder of the Burgundian dynasty. He received the Duchy of Burgundy from his father as a reward for his courage at the Battle of Poitiers (1356). He married Margaret, heiress of Louis of Male, Count of Flanders. In 1384 he succeeded his father-in-law as Count of Flanders, Artois, Nevers and Rethel. He always regarded himself as a French prince, governed his vast realm from Paris and was seldom in Flanders.
In contrast to the policy of coinage debasements of Louis of Male, Philip the Bold restored the silver and gold contents in the Flemish coinage (1389-1390).
In an effort to avoid the Duchy of Brabant to fall to Luxembourg after her death, Joan of Brabant conferred all her possessions on her niece Margaret, wife of Philip the Bold. Between 1384 and 1389 coins were struck under Joan and Philip the Bold combined (Coinage Act between Brabant and Flanders of 16 July 1384). As a result of Philip's monetary offensive against Brabant, Joan of Brabant ceded the Brabant coinage rights completely to Philip in 1389. Philip allowed Jeanne to strike coins again in 1392. On 1 October 1396, Jeanne ceded her privilege of mint to the cities Leuven, Brussels and Tienen.
Philip the Bold died in Halle (Hainaut) on 27 April 1404, he was succeeded by his son John the Fearless.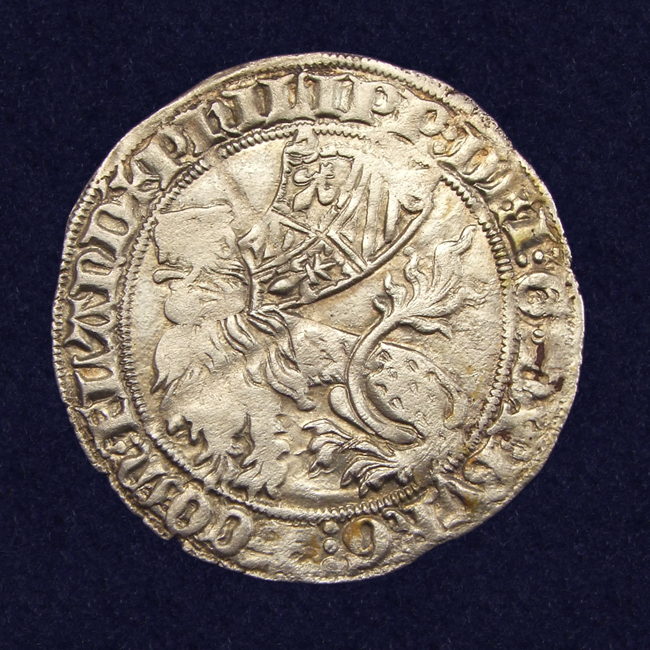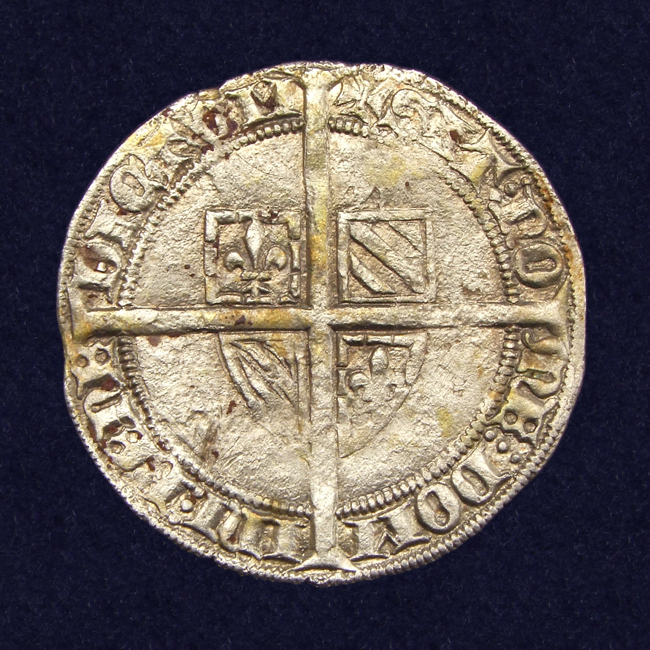 Dubbele groot 'Botdrager', struck in Flanders under Philip the Bold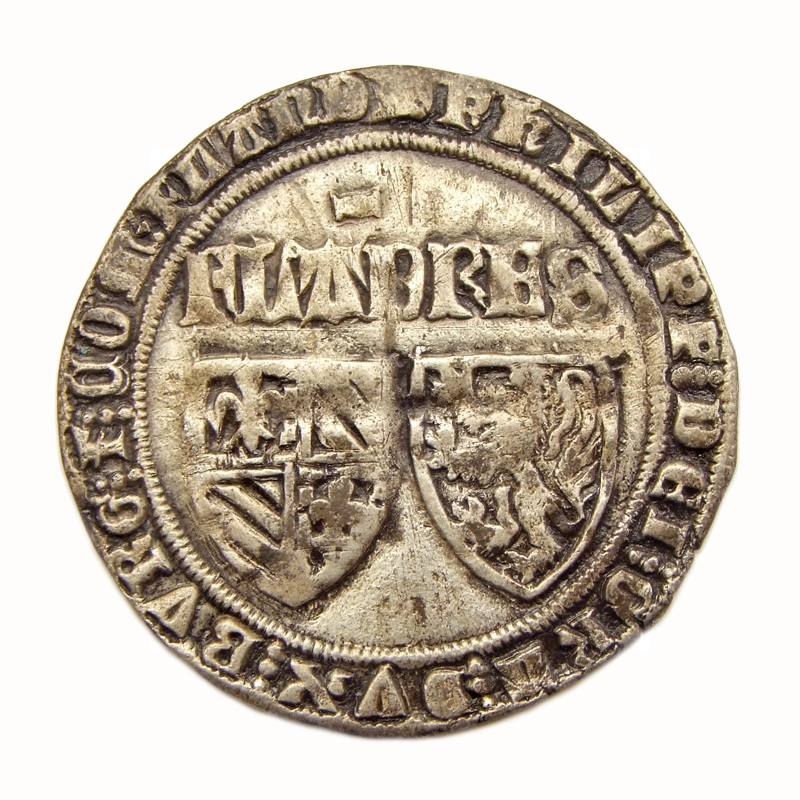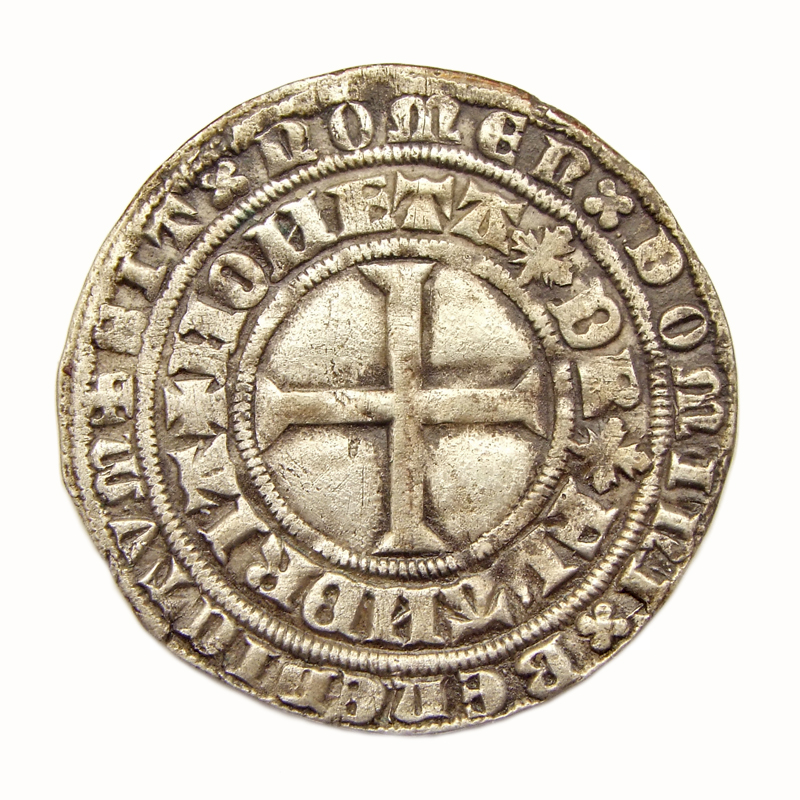 Dubbele groot 'Leliaard', struck in Flanders under Philip the Bold
---
John the Fearless (sans Peur) (1404-1419)
John the Fearless, also called John II or Jan zonder Vrees was Duke of Burgundy from 1404 to 1419. He fought against the Turks at Nicopolis in 1396 where he distinguished himself on the battlefield and earned his nickname 'the Fearless'.
He was a member of the Valois Dynasty and Regent for his cousin Charles VI of France who was mentally ill. There was a power struggle with the King's younger brother Louis of Orléans to gain guardianship and control over the Dauphin. This struggle culminated to the brutal assassination of Louis in the streets of Paris in 1407.
On 10 September 1419 John had a meeting with the Dauphin (the future Charles VII of France) to discuss a peace treaty. The meeting rook place on the bridge at Montereau where John was assassinated by the Dauphin's companions.
John the Fearless introduced two silver coins during his reign: the 'cromstaert' and the 'braspenning'. He maintained the coat of arms from his father Pilip the Bold, but added an inescutcheon: the arms of Flanders (small lion).
Struck under John the Fearless as Duke of Burgundy (1409-1419)
---
Philip the Good (1419-1467)
Philip the Good also known as Philippe le Bon or Philips de Goede became Duke of Burgundy after the assassination of his father John the Fearless (Jan zonder Vrees) in 1419. He was one of the most powerful and influential rulers of the fifteenth century.
In 1430 he created the Order of the Golden Fleece. For the order he chose his personal emblem, the fire-steel in the shape of "B" for Burgundy, placed two of them back to back and suspended the fleece from a flint stone positioned between the fire-steels. This emblem of the Golden Fleece and the Collar of the Golden Fleece has been used on many coins since then, it is a very popular design on Spanish coinage.
During his reign Philip tried to achieve a geographical unit and greatly expanded his territories by acquiring Namur, Brabant, Limburg, Hainaut, Holland, Zeeland and Luxemburg. To promote commerce and the economic development of his territories Philip the Good introduced a new and stable currency which he issued in 1434 for Flanders, Brabant, Holland and Hainaut (1st emission - Coinage Act, January 23rd 1433). The new system was based on the groat of Flanders and included the following coins:
- Gold coins: Goudrijder (Gold Rider or Cavalier d'or) and ½ Cavalier d'or
- Silver coins: Vierlander (double groat or patard), ½ vierlander (groat), ¼ vierlander (½ groat) and 1/8 vierlander (¼ groat)
- Billon coins: double mite and mite.
The name of the new silver coin 'Vierlander' refers to the four countries where they were struck.
With the 2nd Emission (Coinage Act - June 11th 1454) Philip introduced a new type gold coin: the gold lion.
The 3rd Emission (Coinage Act - May 23rd 1466) a uniform manufacture of the Burgundian guilder was ordered. In 1496 it was replaced with the St. Philippus guilder.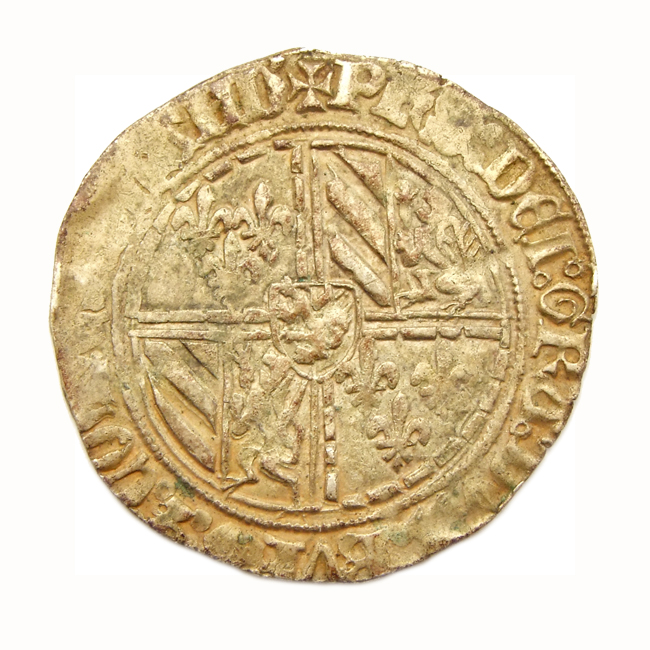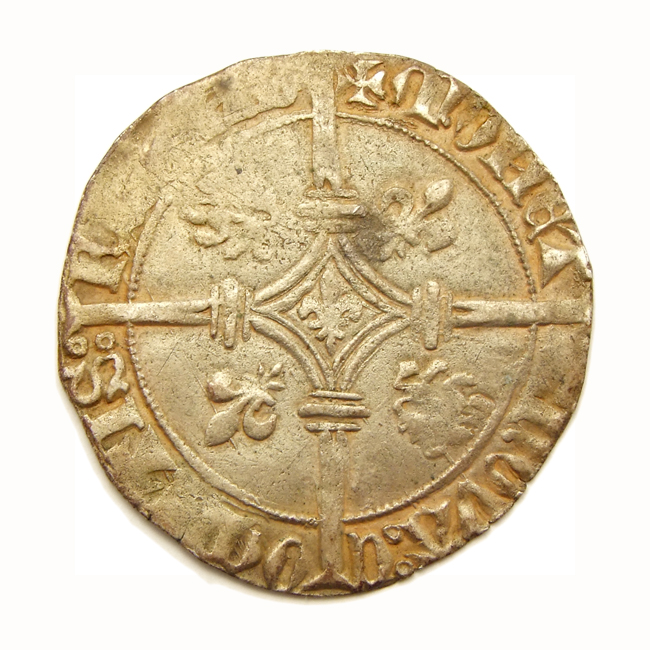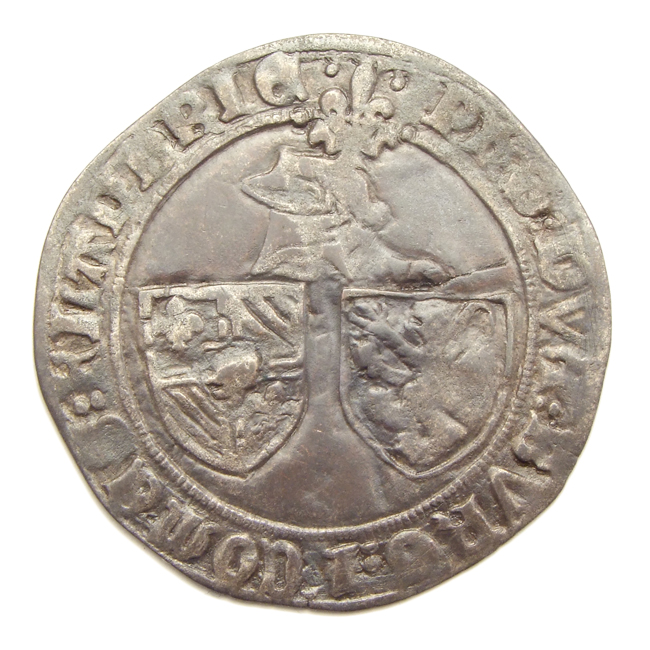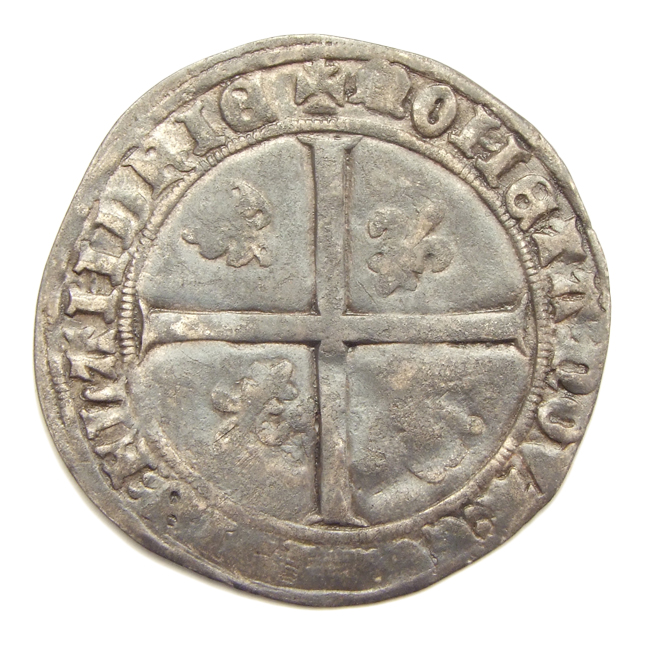 Example of a Braspenning,
Struck under Philip the Good between 1421-1433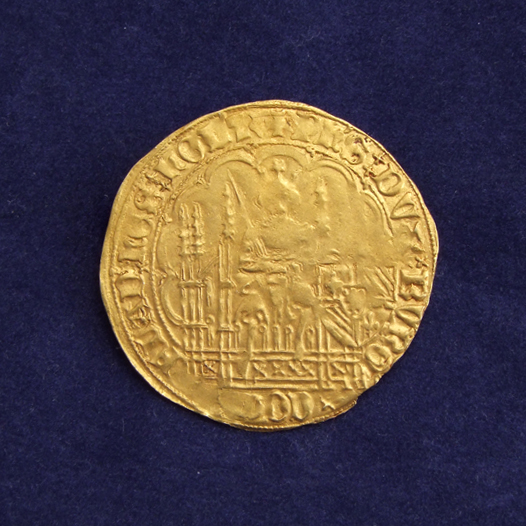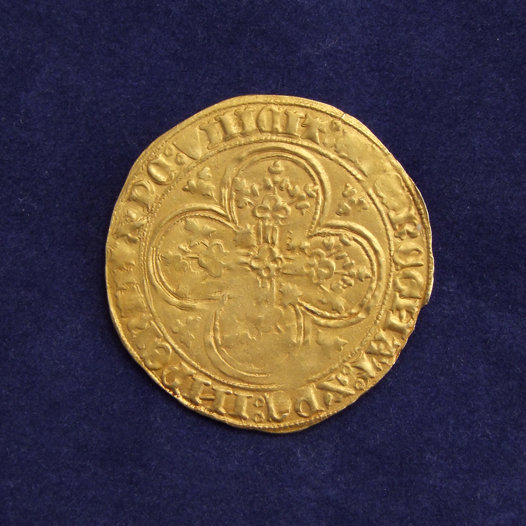 Example of "Gouden Schild", struck under Philip the Good as regent (1425-1428), Holland
---
Mary of Burgundy (1477-1482)
Born in 1457, Duchess of Brabant, Limburg, Lothier, Luxemburg and Guelders and Countess of Flanders, Artois, Charolais, Hainaut, Holland, Zeeland and Zutphen.
Mary was the only daughter of Charles the Bold and granddaughter of Philip the Good. As the heiress to the vast and wealthy Burgundian domains in France and the Low Countries she was often referred to as "Mary the Rich". Mary ascended upon her father's death in the Battle of Nancy on January 5 1477. On 16 August 1477 she married Archduke Maximilian of Austria. To entice the Low Countries into providing support against the French King, Brabant was granted its 'Joyous Entry' and Holland and Zeeland their 'Great Privilege".
In 1482 she died after a fall during a hunt. Her son succeeded her as Philip IV of Burgundy (Philip the Handsome) under the guardianship of his father.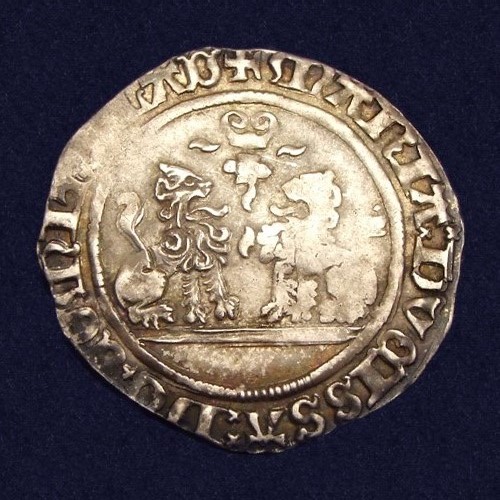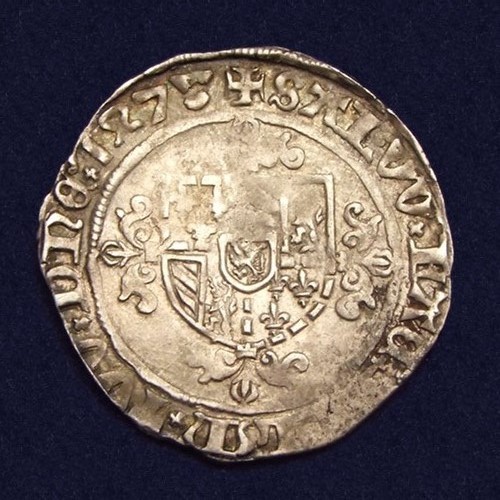 Example of a Double briquet (dubbel vuurijzer), struck under Mary of Burgundy in Bruges 1478.
---
Philip the Handsome or the Fair (1478-1506)
Philip the Handsome or Philips de Schone was the first Habsburg King of Castile. The list of his regnal titles also included (among others) Count of Flanders and Holland, Duke of Burgundy and Brabant. He was the son of Maximilian I, Holy Roman Emperor, and Mary of Burgundy. In 1496 he married Infanta Joanna of Castile.
He introduced 2 new gold coins: the "St. Philippus goudgulden" with a value of 24 stuivers and in 1496 the "Gouden vlies" or "toison d'or" which had a value of 50 stuivers.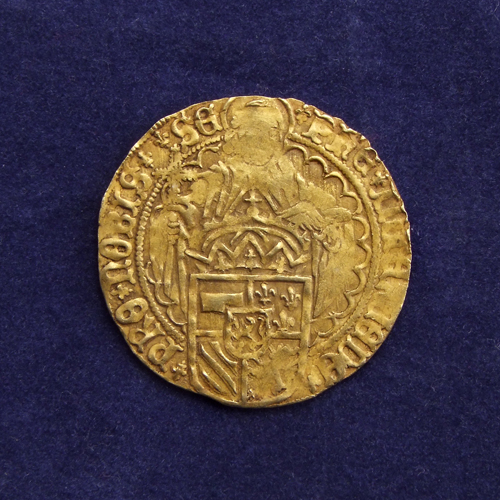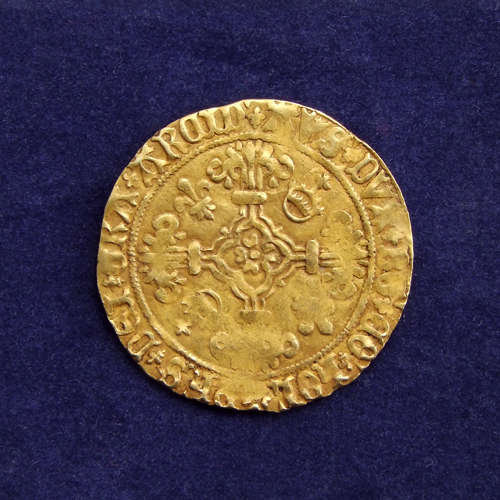 Example of a St. Philippus goudgulden, struck in Dordrecht between 1499-1506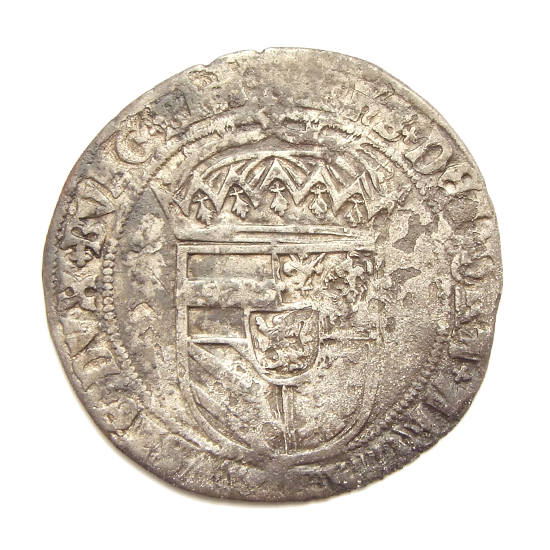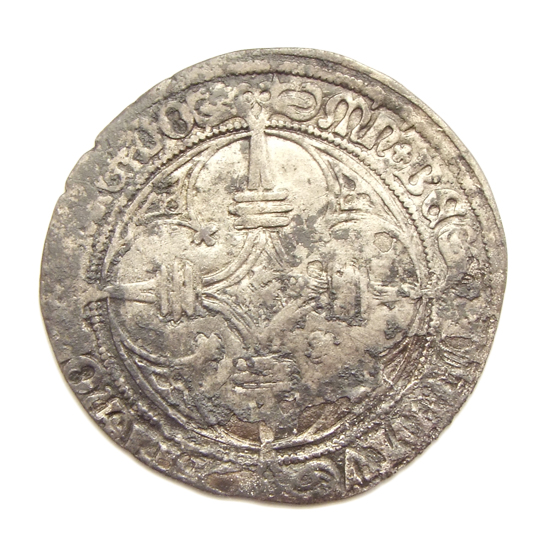 Brabant, double stuiver, struck under Philip the Handsome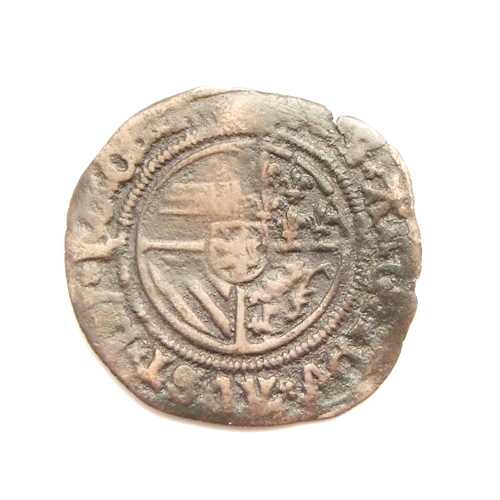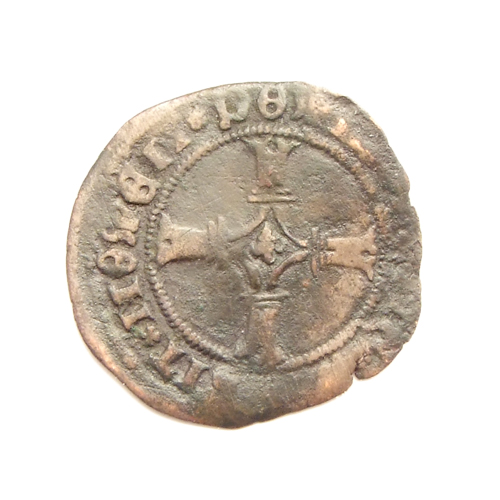 Vlaanderen, dubbele mijt, struck 1499-1506 under Philip the Handsome
---
---
Jan I of Brabant (1267-1294)
Jan I of Brabant (1251/1253 - 1294), also called John the Victorious was Duke of Brabant (1267-1294), Lothier and Limburg (1288-1294). He was the son of Henry III, Duke of Brabant and Aleidis of Burgundy, daughter of Hugh IV, Duke of Burgundy. He earned his nickname the Victorious after his greatest military victory, the Battle of Woeringen (June 5 1288) after which he gained the Duchy of Limburg. John I is often referred to as a modal of a feudal prince and was very popular in poetry and literature. He was very fond of participating in tournaments and jousts. On 3 May 1294 he was mortally wounded during festivities at Bar-le-Duc. He was buried in Brussels, but his tomb has been destroyed during the Beeldenstorm in 1566.
Since 1266-1270, the French gros tournois was very popular in France, and circulated in its surrounding lands. Many countries soon started to strike their own imitation of this type. Initially, the English sterling was imitated for 1/3 gros. In 1285 the gros tournois was imitated, but to a lower standard than the original French type.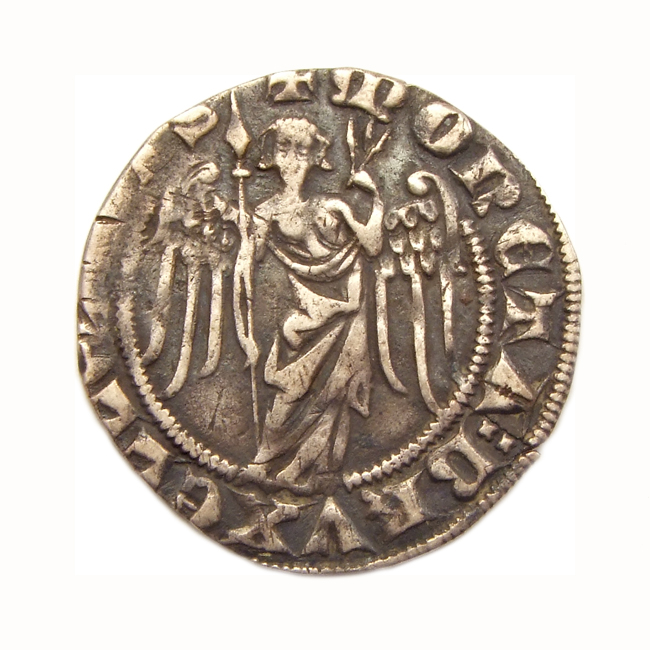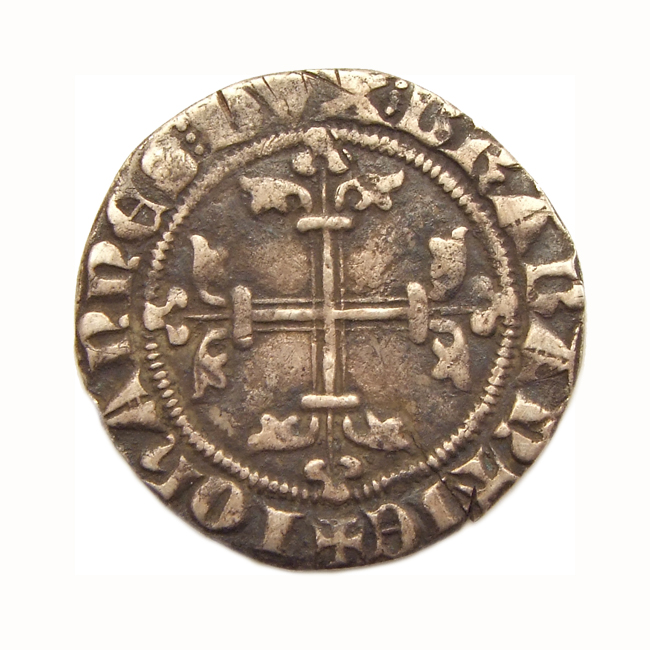 Brabant, Brussel, 2/3 Groot (Engelengroot), struck under John I (1268-1294)
---
Jan III of Brabant
(1300 – December 5, 1355, Brussels), also called Jean or John III, the Triumphant, was Duke of Brabant, Lothier, and Limburg (1312–1355). He was the son of John II, Duke of Brabant and his wife Margaret, daughter of King Edward I of England.
During his reign, Jan III became a powerful lord, alternately supporting France or England. He initially supported Edward III of England with his claim for the French crown during the first stages of the Hundred Years' War (1337-1345), betrothing his second daughter Margaret to Edward, the Black Prince. As his alliance with England unravelled, Brabant was retained as an ally by France with a treaty, signed at Saint-Quentin in 1347. His daughter Margaret was now to marry Louis of Male, Count of Flanders.
While his father Jan II protected a large number of Jews in his castle of Genappe and allowed them to establish banks; under Jan III they fared less better. The majority of Jews were victims of the 'Black Death' persecutions. In Louvain, all the Jews were delivered to the flames (1349 and 1350).
Jean III was granted the right to strike gold coins by Emperor Louis of Bavaria. In the Ordinance of 9th January 1336 Jean, agreed with Guillaume I of Holland and Hainaut to manufacture a coin that would circulate in the lands under their respective sway. To accomodate trade between Flanders and Brabant, an agreement was made with Count Louis I of Flanders to mint coins in Gent and Leuven.
After his death Jan III was buried in the Cistercian Abbey of Villers (now in Belgium). His sons having predeceased him, he was succeeded by his daughter Joanna.
View on NumisAntica - Medieval coins: AR Sterling, struck in Leuven 1330-1337 under John III
---
---
Philip IV (1285-1314)
A member of the House of Capet, Philip was the son of King Philip III and Isabella of Aragon. He ascended the throne at age 17.
In 1294 hostilities broke out between the French King and his brother-in-law, Edward I, King of England. He also suffered a major military defeat in Flanders. For the first time in recorded history an army of footsoldiers (Flemish) defeated an army of knights (French army) in the Battle of the Golden Spurs (Goudensporenslag) near Kortrijk on 11 July 1302. The large numbers of golden spurs that were collected from the French knights gave the battle its name. The date of the battle is still the official holiday of the Flemish community in Belgium.
During his reign Philip had to search for income to cover these military expenditures and finance his royal budget. He levied heavy taxes on the French clergy, expelled the Jews from France, aniihilated the order of the Knights Templar and debased the coinage. His grandfather had minted a few gold coins (Ecu), but under Philip there was a mass diffusion of gold coinage. Hence his nickname le roi "faux monnayeur", meaning "King counterfeiter".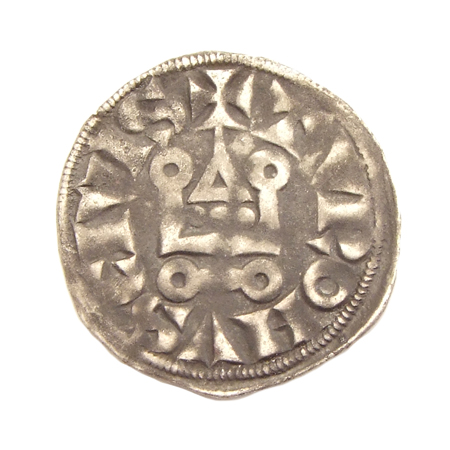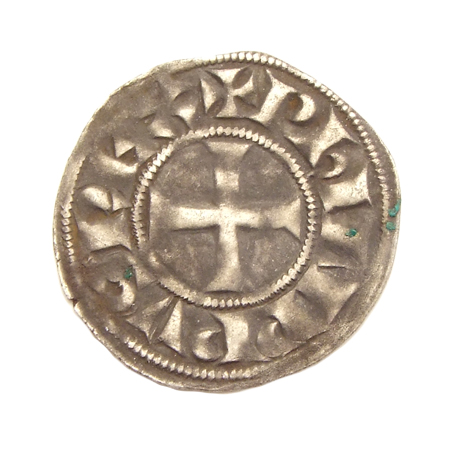 France, Denier Tournois, struck between 1285-1290 under Philip IV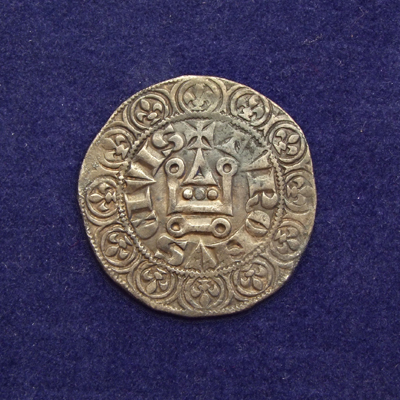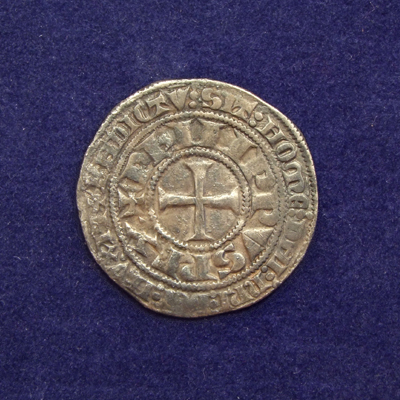 France, Gros Tournois (undated), struck between 1290-1295 under Philip IV
---
Charles VI
(3 December 1368 – 21 October 1422), called the Beloved (le Bien-Aimé) and the Mad (le Fou). In 1380 he came to the throne as a member of the House of Valois.
Charles experienced mental ilness in 1392 which plagued him throughout his life. This resulted in major feuds as his uncles (the Duke of Burgundy and the Duke du Berry) and his brother (Louis, Duke of Orleans) struggled for power; and seriously weakened the French position during the Hundred Years' War. Charles VI (as did more French kings) found alternative ways to finance the war: sales taxes and debasing the coinage.
After the death of Charles VI in 1422 both his son (Charles VII) and his grandson (Henry VI of England) were proclaimed King of France. Charles VI appears to have passed on his mental illness to his grandson Henry, whose inability to govern led England to another civil war, known as the Wars of the Roses.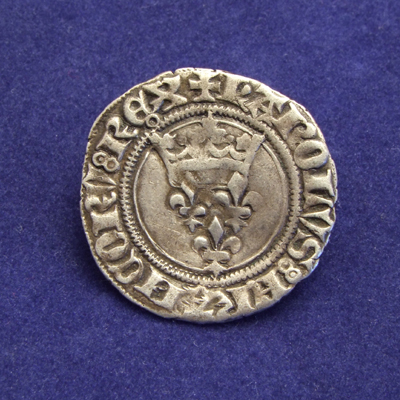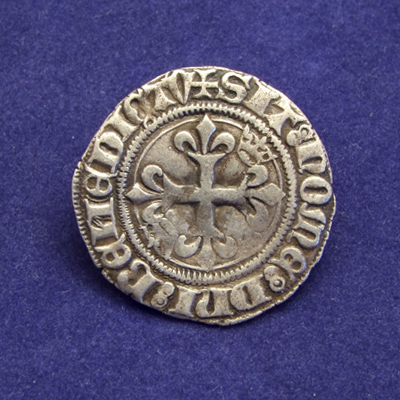 France, Florette, struck under Charles VI between 1380-1422 (2nd Royal Emission, Paris)
---
---
COUNTS OF HAINAUT (GRAAFSCHAP HENEGOUWEN)
Joan (Johanna or Jeanne) and Margaret of Constantinople
were the daughters of Count Baldwin IX of Flanders (also Count Baldwin VI of Hainaut) and of Marie of Champagne. He was one of the most prominent leaders of the Fourth Crusade which resulted in the capture of Constantinople and the foundation of the Latin Empire. He was crowned as the First Emperor of the Latin Empire in Constantinople on 16th of May 1204. After he vanished in 1205, his daughter Joan succeeded as Countess of Hainaut and Flanders. Apart from two known coins (denarius and obole), struck under Reginar V (1013-1030), medieval minting in Hainaut commenced under the rule of Countess Joan.
After the death of Countess Joan, her sister Margaret succeeded her as Margaret II, Countess of Flanders and Hainaut (1244-1280). She remained Countess of Flanders until 1278 and Countess of Hainaut until her death in 1280.
To facilitate trade, around 1270 Marguerite of Constantinople ordered her mints to issue imitations of the "gros tournois," the heavy silver coin that King Louis IX of France had first issued in 1266. The original portrait on the obverse of the gros tournois was retained, but the reverse was replaced by an armored rider (ridder). Hereby the first introduction of a rider was made in Western European coinage.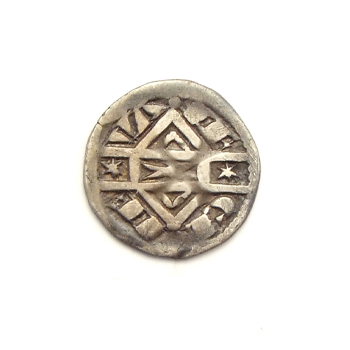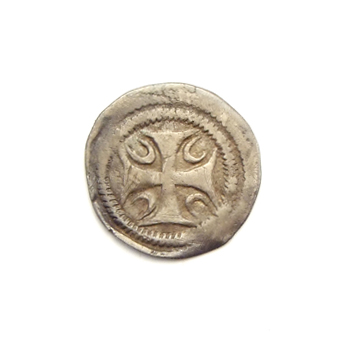 AR Maille, Valenciennes mint.
Struck under Joan of Constantinople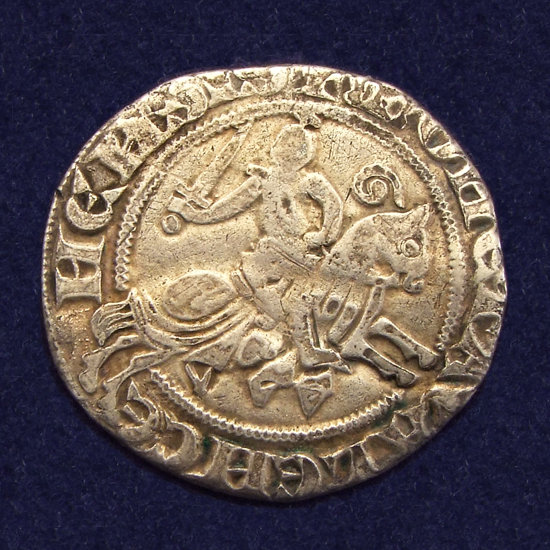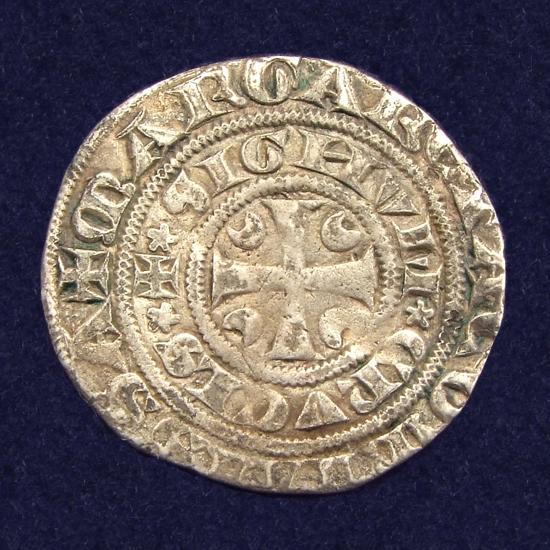 2/3 Ruitergroot, struck in Valenciennes under Margaret of Constantinople
---
William I, Duke of Bavaria, Count of Holland, Hainaut, Zeeland
was the second son of Emperor Louis IV and Margareta of Holland and Hainaut. After the death of his father in 1347, William struggled with his mother Margaret for possession of Holland, Zeeland and Hainaut. This struggle was the start of a civil war (the Hook and Cod wars) which would last 140 years. (1350-1490). With the help of King Edward III of England, the first clash was successful for Margaret (naval battle off Veere in 1351), but the Battle of Vlaardingen was disastrous. In 1354 William was recognized as Count of Holland and Zeeland. Margaret remained Countess of Hainaut untill her death in 1354. In 1357, William began to show signs of insanity. A year later his brother Albert became Regent of Holland and Hainaut. William was confined for the rest of his life. He died in Le Quesnoy in 1389. His brother Albert then succeeded him as Albert I, Duke of Bavaria, Count of Hainaut, Holland and Zeeland.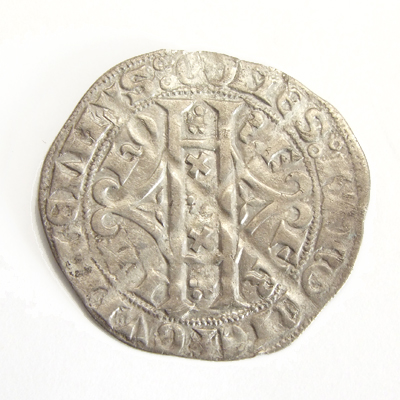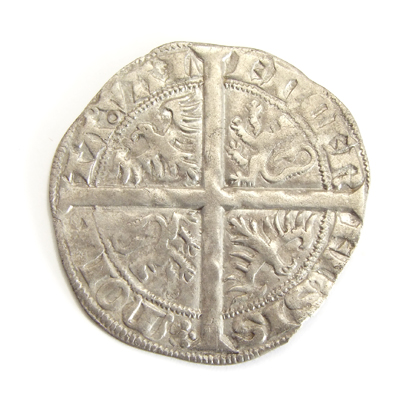 Double groat, stuck under William the Mad (1356-1389)
---
---